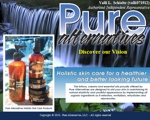 Shopping – Pure Alternatives – Holistic skin care for a healthier and better looking future.
I invite you to visit my skin care site. You might find something you really like. Send me your comment on our products. (Ended upon Valli's passing)

TigersTime Studios – Limited Edition prints, puzzle commemoratives, Dedicated Gothic Memorials. Precious Memories of Life.
Recent Posts
Archives
Categories