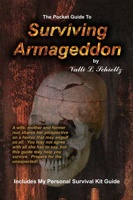 This is a must read for anyone contemplating the final conclusive battle between good and evil. This is one of your must have books. Even if you are not a believer, this short, illustrated pocket guide will enlighten and entertain you.
As a former nun, Mrs. Schieltz shares her personal perspective on this climactic event. She goes one step further and includes an extremely comprehensive Survival Guide.
This is a short, fun read. You would never guess what's on the next to the last page. It's definitely not what you would expect!
Get the Kindle version on Amazon. Type 'The Pocket Guide To Surviving Armageddon' in the search box. This book is also available on Lulu. Click the button below to visit my sister's Lulu store. I know she would be very happy for you to have one or both of her books.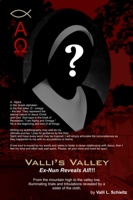 Valli Schieltz has just published (May 2015) her tell all book complete with many photos depicting her life's story. Ms. Schieltz now has stage 4 cancer and is in hospice care. She worked hard to tell her story. Writing these books was foremost on her mind.
This book is available in three versions – a full color hardback, a black & white paperback, and a full color e-book. Click the button below to get your copy.
#armageddon
Recent Posts
Archives
Categories